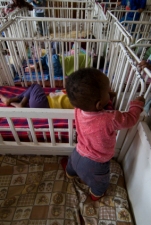 I'm at the orphanage right now.  It's the only place with wireless internet (the Sizanani Outreach offices are here too) and I'm literally surrounded by TEN kids haha. They're loving this laptop I am using... kinda making it hard to type. I put on Disney songs so they can enjoy. They are seriously so cute. I love them all and I want to take them allllll home with me.
I'm sitting next to a little 13 year old boy who is reading this email as I type it. haha. He wants me to tell you all that he says hello. All of the other kids say hello as well. Man I cannot describe to you how awesome they are, and so beautiful. One of my favorites is a little six year old who has AIDS and so is the size of a 4 year old. He is extremely smart and always goofing around. To be honest, all the kids are my favorite.
They all have such good little hearts and despite their circumstance, they are all fairly well behaved and happy. It's amazing what people can do with so little. Makes me really realize how incredibly spoiled I am.